The bridal destination for the ultimate personal one-on-one wedding dress shopping experience. Elegant, timeless, unique, and made just for you!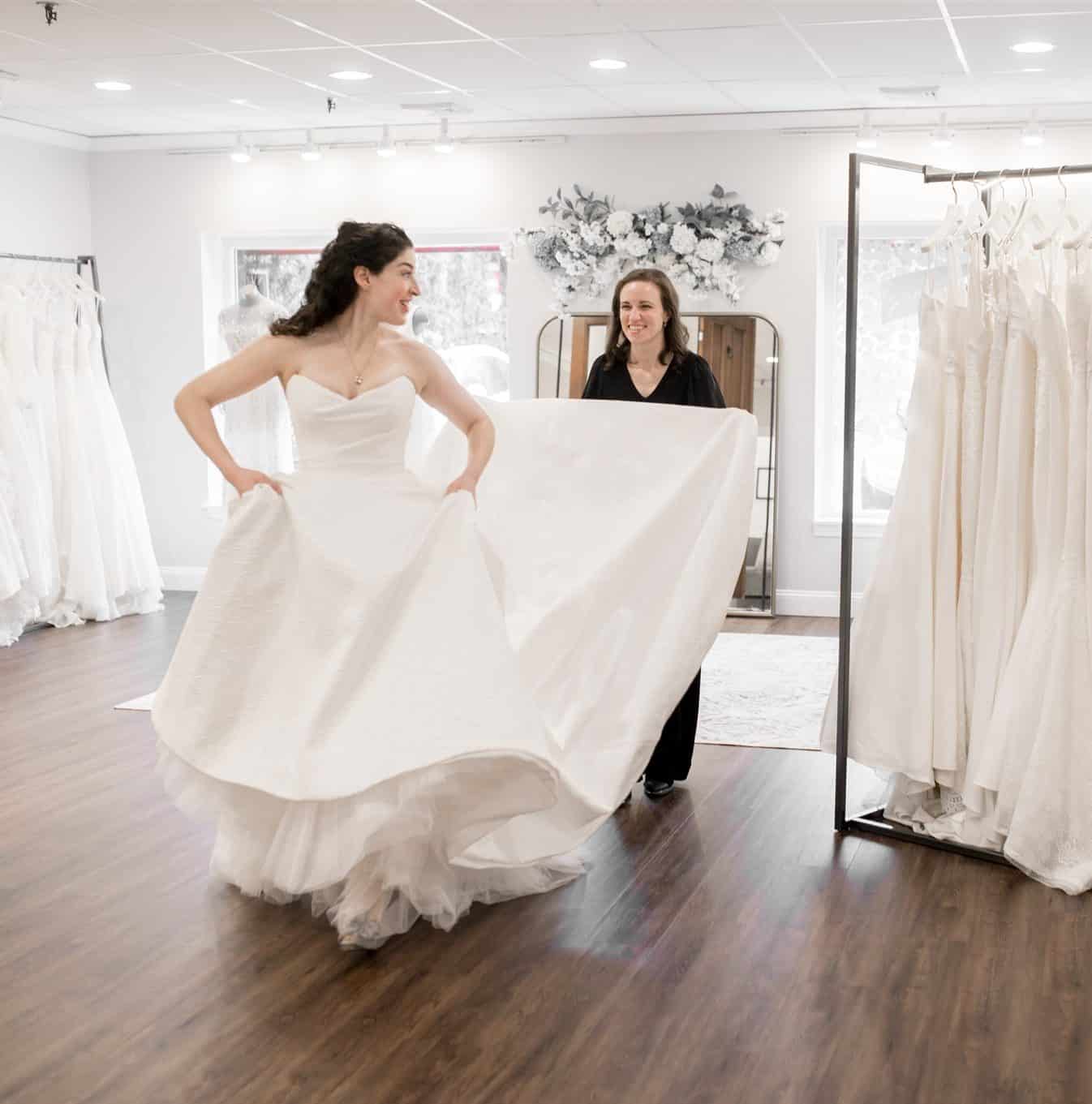 Experience
A better bridal experience starts with exceptional wedding dresses and personal attention.
I've been called magical, a fairy godmother, and a wedding dress whisperer, but you can call me Malinda.
I've been doing the one-bride-at-a-time thing since before it was Covid-cool. I'm not fancy, but I like fancy things. You can trust me to be real with you no matter what. My commitments to inclusivity and slow fashion guide me in everything I do. And, I believe that when you're buying a dress that costs more than your ring, you should have the right to make it your own.
Book An Appointment
Your Dream Bridal offers ultra-personalized bridal dress education in a comfortable, private setting. I'll listen to your vision, ask the right questions, and help you create a dress that will fit your style, vision, and values so you can be comfortable, beautiful, and totally you on your wedding day.
Designers
A hand-selected collection of sustainably made, elegant, and sophisticated wedding dresses featuring unique details.
An award-winning Boston-area bridal boutique
Personalized service and customizable, slow-fashion gowns for brides who want to be uniquely stunning on their wedding day.  
You're smart and savvy, and do your homework when it comes to important decisions.
Why not approach shopping for your wedding dress the same way?
It's not about the champagne, it doesn't have to be a (Capital E) Experience, and you don't need to visit a dozen shops. What you need are a gut check and a guide. That's where I come in.
When you visit Your Dream Bridal, you can feel confident that you've stepped into a safe space where you'll be heard and treated with respect and care. Not only will you have a private appointment with me, Malinda, but you'll also have the entire boutique to yourself.
By asking the right questions, we'll zero in on precisely what you want, even if you're feeling confused. You'll learn which dress will help you feel and look your best. It's more than shopping— it's essential for bridal education.
At Your Dream Bridal, you'll only find made-to-measure, sustainably created gowns featuring high-quality fabrics and stunning details. And thanks to the relationships that I've built with designers, I can help you customize your gown to make it totally you.
Don't settle for a "sort of your dream" dress, an "I love it except the sleeves" dress, or a "looks great, except I can't fully breathe" dress. Don't compromise your values and pay top dollar for something mass-produced in a sweatshop. Trust that, together, we can create a look that feels good in your heart, on your body, and in the mirror.
Reserve our Sudbury, MA shop for your private appointment today.